The Sword is an unlockable melee weapon in Thing-Thing 4.
It only serves as a reskin to the Lead Pipe as it's damage output remains unchanged.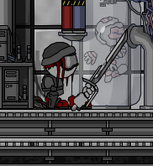 The sword is unlocked once the player achieves 500 melee kills.
The easiest way to farm melee kills is through the Stinky Bean Chamber.